Bollywood actor Pankaj Tripathi is in vogue for his phenomenal performance in Amazon Prime's web series Mirzapur. Tripathi mastered the role of a villain in the series and his character Kaleen Bhaiya was much appreciated by the audiences. Thanks to Mirzapur, Tripathi has achieved his much-deserved stardom, after a long wait of over 14 years including 40+ films and TV/web series.
Pankaj Tripathi's brand equity has increased exponentially and he recently featured in two big advertising campaigns for Star Plus (promoting #StarValuePack) and PolicyBazaar. Both are television-heavy brands targeting general consumers clearly indicating that Tripathi is very well connected with masses.
Interestingly, Tripathi, who rose to fame for his bad-boy image, is an emerging villain brand endorser. He has now joined the likes of Amrish Puri, Prem Chopra, Shakti Kapoor, Gulshan Grover, Prakash Raj and Amjad Khan, and is well poised to create space for other actors playing the bad boys to be the brand endorsers in Indian cinema.
In the latest development, Tripathi is all set to work with Hollywood actor Chris Hemsworth in his latest flick Dhaka.
A New Villain in the Endorsement Space
Let us look at Tripathi's career a little more closely. He began his career with several negative roles in the films but came to limelight with his power-packed performance in 'Gangs of Wasseypur' where he played 'Sultan Qureshi', a brutal gangster. Audiences appreciated the ease with which Tripathi played his character and the film marked the entry of yet another talented actor in the industry.
During his career, he played the role of a bad guy in several big films and television/web series such as 'Altaf' in Singham 2, 'Minister Dilleeswara Rao' in DooSukeltha, 'Naved Ansari' in Powder, 'Keshri Singh' in Gurgaon, 'Major Virendra Rathore' in Shaurya, 'Ruab' in Manjhi: The Mountain Man, 'Pankaj Patil' in Kaala, and 'Tripathi' in Phamous.
Over a period of time, he has mastered the art of bringing variety to every negative character he has played in different movies depending upon the requirement of the script.
Tripathi played a bad boy in Mirzapur. His appearance could not have been missed by the brand managers since Amazon Prime led the marketing initiatives with him as the lead. The phenomenon is certainly not common on Indian streets that a villain is leading the marketing initiatives.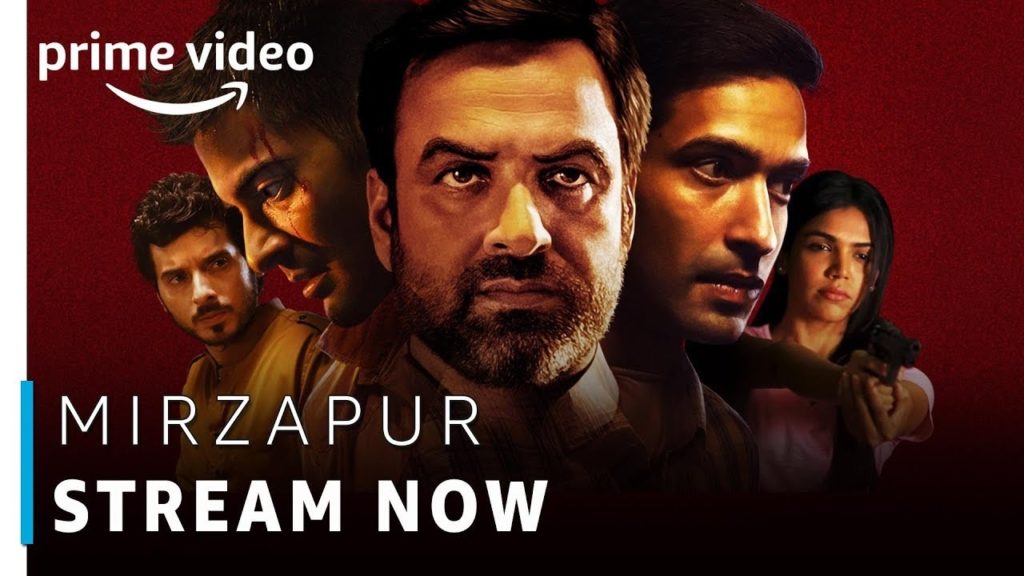 Giving a passerby look at the Google Trends, Tripathi has gained a lot of resonance in the minds of consumer owing to the marketing push of Mirzapur and his subtle performance of a professor in Bollywood flick 'Stree'. The parameter one should look at here is the sudden outburst of the interest of news outlets (offline & online) towards Tripathi. Everybody is seeking learnings from him, wants to know about his struggles and what he plans in the future. Tripathi has a decent Twitter (52.8k) and Facebook (117k) following with a positive chatter on social media.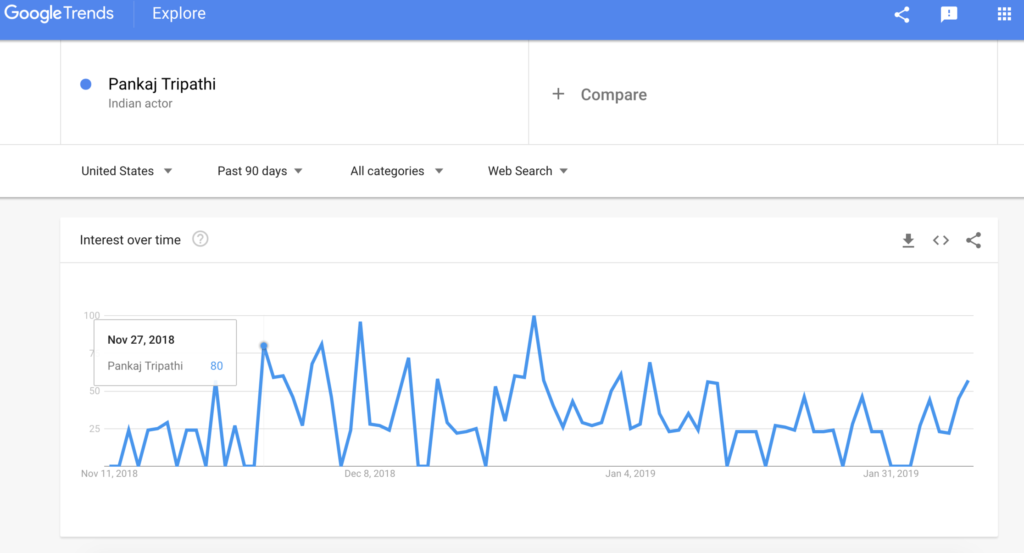 He brings a lot of non-metro charm and insights which is loved by the audiences. Even though he started as a bad boy but has done several roles which have been acclaimed by the audiences. He cuts across both urban and non-urban audiences of all ages and socio-economic categories. He is not an A-lister celebrity but the audiences also do not want him to be that. They want him to be real so that they relate with him and that is what the brands want.
During his career, he has done several endorsements (Tata Tea Jaago Re, PolicyBazaar, Videocon) but it is now when he is more recognized than ever before.
Villains in the Endorsement Space
If anyone closely looks at the endorsement space in India, it is dominated by the protagonists such as Amitabh Bachchan, Ranveer Singh, Aamir Khan, Pawan Kalyan, Prabhas, Deepika Padukone, Allu Arjun, Ram Charan, Alia Bhatt, Katrina Kaif and many others. There are only a handful of advertisements which have featured the bad boys of the industry despite their stellar performances in movies that still remain afresh in the minds of the audiences. For example, Mogambo in Mr. India, Maharani in Sadak, Dr. Dang in Karma, Lion in Kalicharan, Kancha Cheena in Agneepath, Prem Chopra in Bobby are some of the most brilliant performances of the bad boys that have been saved by the history.
It is not easy – or I would say extremely difficult – to hire reel villains for brand endorsements in India. Most brands prefer safer choices – sportsman or a film actor (protagonist). Imagine a brand manager proposing to opt for a villain as brand endorser instead of a protagonist? Most likely, the board would say — 'WHAT ARE YOU TALKING', at least in India (may also be true for other parts of the world).
A few big and small brands have done successful ad campaigns with these antagonists in the past. For example, Britannia roped in Amjad Khan also well known as Gabbar Singh for Glucose D biscuits. He was the first villain brand endorser of India. The ad film was widely successful.
Late Amrish Puri starred in one of the Pepsi India ads and also led a Luminous Inverter campaign. Another time, Havells Wires did an ad with Bollywood baddies like Prem Chopra, Shakti Kapoor, and Ranjeeth. In the most recent scenario, Ford India did a series of ads with Prakash Raj, Gulshan Grover, and Sudha Chandran but that was also two years ago.
Even though the above-mentioned brand campaigns did well, no brand has gone ahead to rope in the reel-life villains for longer contracts.
The larger strategy suggests that the audience may not like the idea of brands associating with a reel-life villain and the whole idea might trickle negative imagery to the brand. However, protagonists who stand for the right things in reel life leave positive imagery in the minds of the audiences and hence lending positive imagery to the brands. Another big reason is that the film marketing is mostly done keeping the protagonist at the center and traditionally audiences are trained to appreciate the performance of the protagonists. As a result, we see movie songs and stunt sequences of the protagonist being promoted heavily, but the dialogues from the antagonist are only revealed when audiences actually sample the film. After seeing a film, people like the FB or Twitter account of the actor to find out more about his details but hardly focus on villains without which the film would have been incomplete. For this reason, there is a wide difference in the social following of a protagonist and an antagonist.
Will we ever see reel-life villains endorsing as many brands as Ranveer Singh or Amitabh Bachchan? Do they not have talent or did they make a big mistake in their career by taking up negative roles? I would say one cannot really blame the brands because not every brand wishes to be the trendsetter and playing it safe is also not morally wrong.
I believe that the brands have not tried to push the envelope and played safe all this while. Most of the times brands use reel-life bad-boys to surprise or shock the audiences making the latter not take his eyes off the screen. However, these actors bring a lot more to the table than just a surprise and shock. They command enough respect and leverage to help a brand cut across any target group and socio-economic categories as much as a protagonist. For example, Narcos used the popularity of its villain to promote the show. They ran an excellent social media campaign to explain the meaning of Spanish slangs used in the series. Secondly, with these bad boys, brands and creative agencies can actually look altogether at new way of promotions, which may not be possible with a protagonist. With the right strategy, these actors are good enough to promote any brand on the block.
Though the bad guys are not dancing on the stage and sharing lessons on 'Lived Happily Ever After', a film cannot be completed without them.
By Devesh Gupta, Head of Corporate Communications, DCMN India.
(The views and opinion expressed are completely of the author's. He enjoys reading about marketing and brands, and is still learning about them everyday.)